Do you identify on the Trans* spectrum and/or are you questioning your gender identity?
Are you under the age of 25?
The Gender Jelly project will be designing new and exciting resources about gender identity, Trans* identities and how to tackle Trans*phobic bullying in schools. Get your voice heard and make a change by getting involved!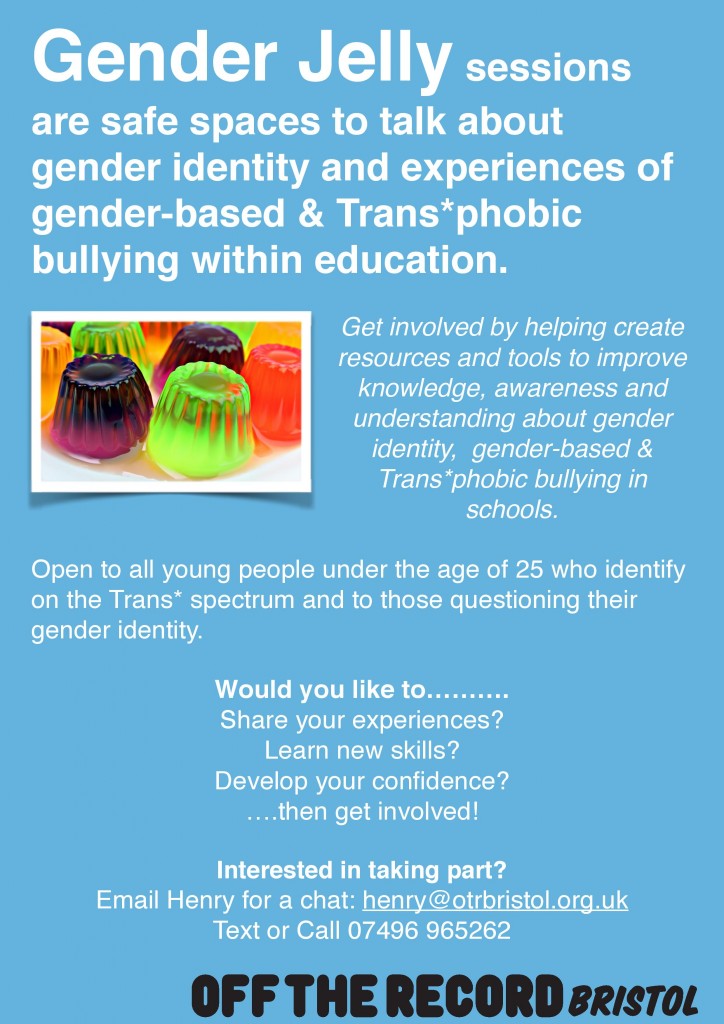 The project has loads of ways to take part:
ProjecTeers will have input into the content and look of the resources that we will create to support teachers and young people in having conversations about gender identity, Trans* identity and Trans*phobic bullying.
There are a couple of other ways to get involved with creative projects…
– Photography project where you will have the chance to create bold images about gender and what it means to you.
– Creative arts session (poetry, creative writing, illustration, spoken word, art journalling… and more) which will be an opportunity to start your conversation about gender through art.
– Drama project (starts in September… more info to follow!)
Email Henry for a chat about getting involved and to find out times and dates for the sessions.
Sessions will be held in a central Bristol location and travel can be paid.
Email henry@otrbristol.org.uk / Text or call 07496 965262
More info:
Invalid Displayed Gallery