Location
Bristol

Drop-in or signup?
Drop in
Sign up

Creative drop in
Wednesdays 4.30-6.30pm
1-2 Perry Road
February's material
Fabric
Art Works is an arts-centred wellbeing project, acting to ensure creativity is accessible to all young people.
---
Signing up for Art Works means you will have the opportunity to work on some of the newest and most exciting art projects Bristol has to offer. OTR believes in the power of art to support your emotional wellbeing, amplify your voice and strengthen your community. So, Art Works teams up with artists and galleries across Bristol and South Glos who we think will support you with exactly that.
Our projects are always changing, but in the past we've worked with music, clay, dance, paint, collage, photography, virtual realities and more. You don't need any creative experience to sign up for Art Works and all our projects are FREE!

Creative Drop-In
This is a great space to get creative whether you've tried it before or not. Each month we'll be working with a new material but if you don't fancy it you can do your own thing and use any of the materials in the room that excite you. How you participate is totally up to you!
You can find out about any and all of the creative projects going on at OTR here by chatting with Tilda or our lovely team of Art Works volunteers. We're here each week in person to chat about any thoughts, worries or questions you have.
If you've never been before and are feeling a bit nervous please feel free to turn up 15 minutes early for a chilled chat and a tea with Tilda to find out if this is the space for you.
11-25 year olds
⏰ Wednesdays 4.30-6.30pm
📍 1-2 Perry Rd, Bristol BS1 5BQ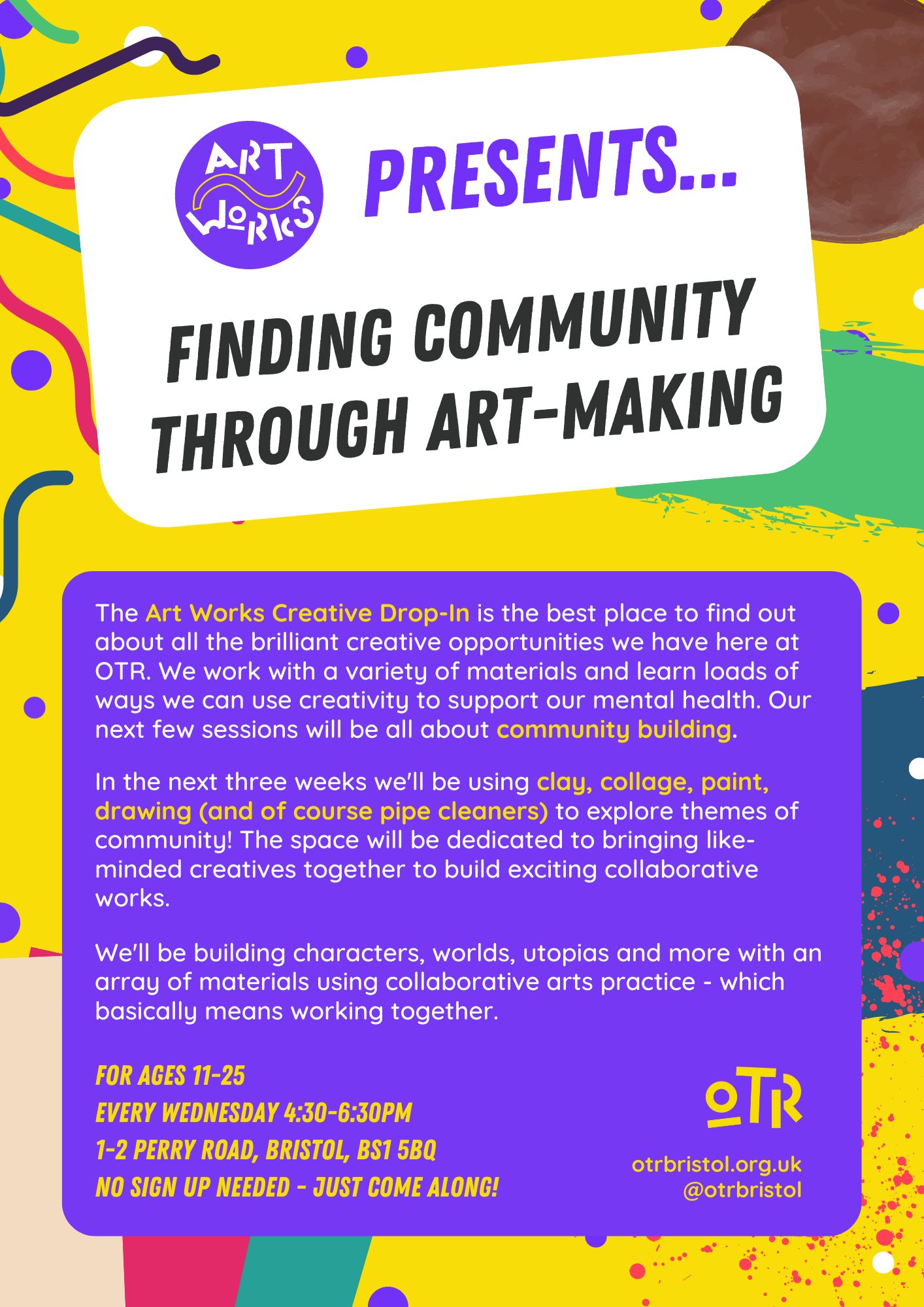 ---
Current projects

ArtWorks NetWorks is a new opportunity for young people between 18 -25 who are interested in learning more about facilitating arts and wellbeing workshops.
Starting to run your own workshops can be scary, but in these sessions we'll have a chance to cover the small stuff like writing your first invoice all the way up to the crucial stuff like embedding anti-oppressive practice into your work and everything in between.
For 18-25 year olds
📍 Spike Island
🗓️ Last Wednesday of the month



OTR Sounds is a six-week course offering a space for young people aged 16-25 to come together through collaborative playlist creation, and discuss the stories that inspire our choices.
OTR Sounds is a group for shared listening to music. Each week starts with a quick go-round to say hello, then you'll plug your headphones in and listen together to music that you choose. There is space to talk after each track – but no worries if you'd rather not, talking is completely optional.
It's a really nice opportunity to meet new people, feel part of a community, and discover new music.
For 16-25 year olds
📍 Online
🗓️ Mondays for 6 weeks.


We run a monthly Book Club which, in collaboration with Give a Book, provides free books to keep and discuss.

The OTR Book Club is a safe place for young people to gather and meet like-minded book-lovers, as well as read titles they may not have previously considered.
The Book Club runs on the last Monday of each month. Members can suggest 3 books each, which run in a Doodle poll for the group to vote on our monthly book.
For 16-25 year olds
📍 Online
🗓️ Every last Monday of each month
---
Nature Works, Sports Works, and Art Works sit within OTR's Community Partnerships Team. These projects are designed to offer you an alternative approach to mental health care. We want to offer a wide breadth of services to ensure that you can feel empowered and in control of your health and wellbeing, on your own terms.
We recognise that some young people face barriers to accessing mental health support, and so we actively encourage and invite young people from working class backgrounds, young people with disabilities, young men, young people with experience of care, young people for whom English is a second language, LGBTQ+ young people and young people of colour to our service. Please let us know if you are struggling to access support, for whatever reason, and we will try to support you to overcome those barriers. For example, we can work with interpreters, support you with route planning to get to the project, or offer additional emotional support.
We look forward to welcoming you to one of our projects soon!