Zinnia is a Peer Navigator at OTR and has written a blog about getting closer to nature – and it can be way simpler than you may think! Check out the ideas below…
ALSO: Our self-help zine this month is alllll about nature. You can download and print it, or come along to one of our Hubs to pick it up in person.
🍃🍃🍃🍃
I love nature! It is a source of solace, inspiration, adventure and more for me. We all have individual experiences of nature, though, and it can mean a million things other than grassy hills – that's what's exciting about it!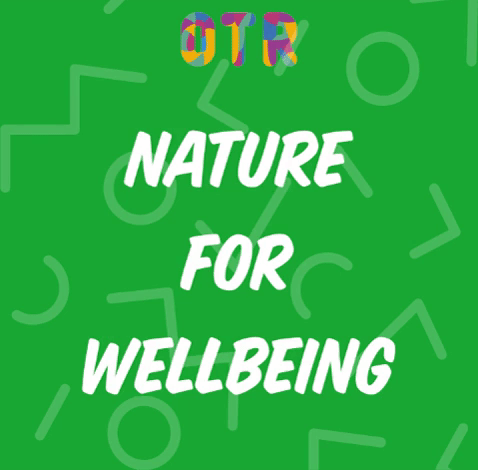 If you caught us on BBC Radio Bristol (listen here from 54 mins!) you will have heard Cat talking about how 'nature' does not need to be a camping weekend or sea swimming; the smallest and seemingly simple things we do each day to connect with nature can be useful for lifting your mood, lowering stress and maintaining wellbeing. Below I have collected from various people and written some ideas and exercises to help 'get outdoors':
Open your curtains – get some light into your room. 🌤

And a window – let in some fresh air.

Take three deep breaths!

Name five things you can sense outside – the sound of a car, the colour of a plant, the smell of someone cooking.

Sit outside for a morning tea/coffee/squash, even on a doorstep or by an open window for some sunshine and fresh air while you wake up. ☕

If going outside for walks right now is difficult, bring some plants inside – potted herbs, succulent plants, tomatoes for example.

Watch a nature documentary. 📺

Or an animation with amazing nature scenery.

Learn about local inner city projects in nature – city farms, community gardens, local food producers.

Learn about nature (cool plants, funny animals) in another part of the world you want to visit in the future. 🌏

Watch cool natural phenomenon videos like this one!

Make a playlist of songs that reminds you of being outdoors/nature. 🎶

Create your own music using samples from nature sounds or using the theme of nature as a starting point.

Relax Melodies is a free app you can download to layer noises like a campfire crackling, crickets chirping or a waterfall etc.

Sky Map is a free app you can use to look at star constellations! 💫

Think about what the words "nature", "outdoors" and "environment" mean to you – is it grass, clean air, community, something else?

Write with nature/outdoors/environment as inspiration words. ✍

As above but paint, draw a comic, make a blog post, do your makeup or choreograph some dance inspired by nature.

Look after a small piece of nature – feed the birds that visit your garden, make a hedgehog hotel, join a local park clean up. 🐤

Do you have any animal pals? Spend time with them.

Passionate about environmental issues? Explore it! Volunteer for nature, write to your local MP if you feel passionate about saving wild spaces or tackle food waste issues by trying preserving/pickling etc.

Take photos of nature and/or outdoors every day for a month and compile them all. 📸

Make some art with materials from nature. You can make natural dyes at home!

Or 'found' art from things you came across on a walk like bottle tops or old shopping lists.

Run a bath with ingredients from nature: ie oats, oils, ginger, salts. 🛀

Get outside – even a short evening stroll around the block.

Make it longer – choose somewhere new to explore.

Invite a friend or family, or go with a local walking group you feel comfortable in.

Put a date in the diary to get somewhere you really love but cannot get to very often – like the beach for example. 📆

Foraging – free food! Here is a list of UK foods that can be foraged.

If these foods aren't available for you to forage, share a seasonal meal (from the supermarket/local market) with a friend. Asparagus soup anybody? 🥣

Make your own list of ideas and exercises you might use when you need a 'pick me up' or more nature in your life and make another of your favourite things about nature/being outdoors – rain on a tent/conservatory roof/bus window, walking on a pier eating chips (and watching out for seagulls).

Take some time for yourself with your phone on silent mode to sit outside or (when it's a little bit warmer) take your shoes off for the grass-in-toes feeling. 🌾

There are some warmer months ahead – hopefully you can incorporate some of these exercises into your life and enjoy 'getting outdoors'.
🍃🍃🍃🍃
If you have any more suggestions, let us know online – use the hashtag #OTRoutdoors and write to us on Facebook, Instagram or Twitter!