OTR is a space I needed whilst I was growing up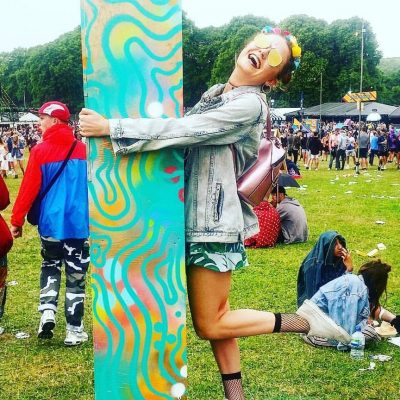 I first heard about OTR as a university student. A few of my friends had reached out to OTR for their support. They had spoken (very positively) about the much-needed warm welcome and the valuable help they had received.
My first impression of OTR, from perusing the website and various social media, was that it was unlike mental health charities I had experienced before. It was colourful, fun and presented an unconventional approach to mental health.
After my interview at OTR to be a Peer Navigator, I was excited to start learning more about how I could help. It was amazing meeting individuals that felt as comfortable and passionate as me about discussing mental health and giving it priority in their everyday life.
As I learnt more about the services OTR offered, I was taken aback with the array of very specific services provided for young people. As a child, I suffered with anxiety – something not widely discussed at the time (especially in the depths of the Devonshire countryside). I didn't have an opportunity to be surrounded by other children, and adults who understood my experiences. OTR is providing the young people in Bristol and South Gloucestershire exactly this.
My first day as a Peer Navigator involved lots of tea and biscuits
Following a few days of really interesting training, I was really looking forward to the first OTR Hub as a Peer Navigator. It was amazing to discover the number of services there were to discuss with young people, through OTR and other charities. It was easy to suggest helpful and targeted groups for the young people and their various needs. Taking everything into account, I felt a huge responsibility to provide an accessible, positive place for the young people that came through the doors.
Although the Hub maintained a really encouraging, peaceful buzz, it struck me how brave young people were to come through the doors initially. As soon as they had come in, everyone working and attending the Hub wanted them to feel as comfortable as possible – especially since most of them knew exactly how it felt to be in their shoes. Alongside copious amounts of tea, it was surprisingly easy for me to resonate with the young people. I found that they felt at ease (and somewhat shocked) when I mentioned that I'd experienced similar feelings to them. In addition, we discussed how other volunteers for OTR may have reached out for the charity's services previously. I knew that this was something that would have helped me, had I come to OTR as the young me that was facing anxiety struggles for the first time.
I love that OTR prioritises young people's wishes
It was interesting for me to see that the parents coming in with their young people were as hesitant as their younger companions. Predominantly, OTR made sure the young person and their needs were at the forefront – whether this included parents in the service conversation or not. This intentional distance gave the parents a chance to have a cup of tea with other parents with similar concerns, and ask questions to Peer Navigators.
Having seen my parents juggle their own emotions whilst helping me and my experience as an anxious child, it was easy to empathise with the parents who came to the Hubs. It was obvious that they desperately wanted to help their young people by learning more about mental health and the struggles they were facing. I felt comforted that both the parent and young person left the Hubs with additional resources and a selection of realistic options for going forward.
I took away a whole lot from my short time of being a Peer Navigator
As the demands of life called, I reluctantly had to move away from my time as a Peer Navigator. I felt sad to say goodbye to the team I'd met along the way, and fellow Peer Navigators I'd got to know. After my last Hub, I felt left feeling energised and truly inspired knowing that there was a space within Bristol and South Gloucestershire like OTR.
Looking back on my experiences at OTR, I've taken away some valuable points that I like to frequently remind myself of:
Mental resilience is a journey. Something I am slowly taking part in alongside a significant community of like-minded people
Transparency in a workplace encourages, ultimately, a better atmosphere and relationship between volunteers and co-workers. It's something every charity, workplace, university and school should aspire to
Everyone has their own struggle, but there's tailored support for them – they just have to be brave enough to reach out to the mountain friendly people eager to help
It's easy to recommend OTR to anyone (11-25) struggling and feel utterly reassured that they will get the guidance and support that they need