Our experience of the iThrive MHST event – by OTR Peer Reps Emily, Frankie and Meg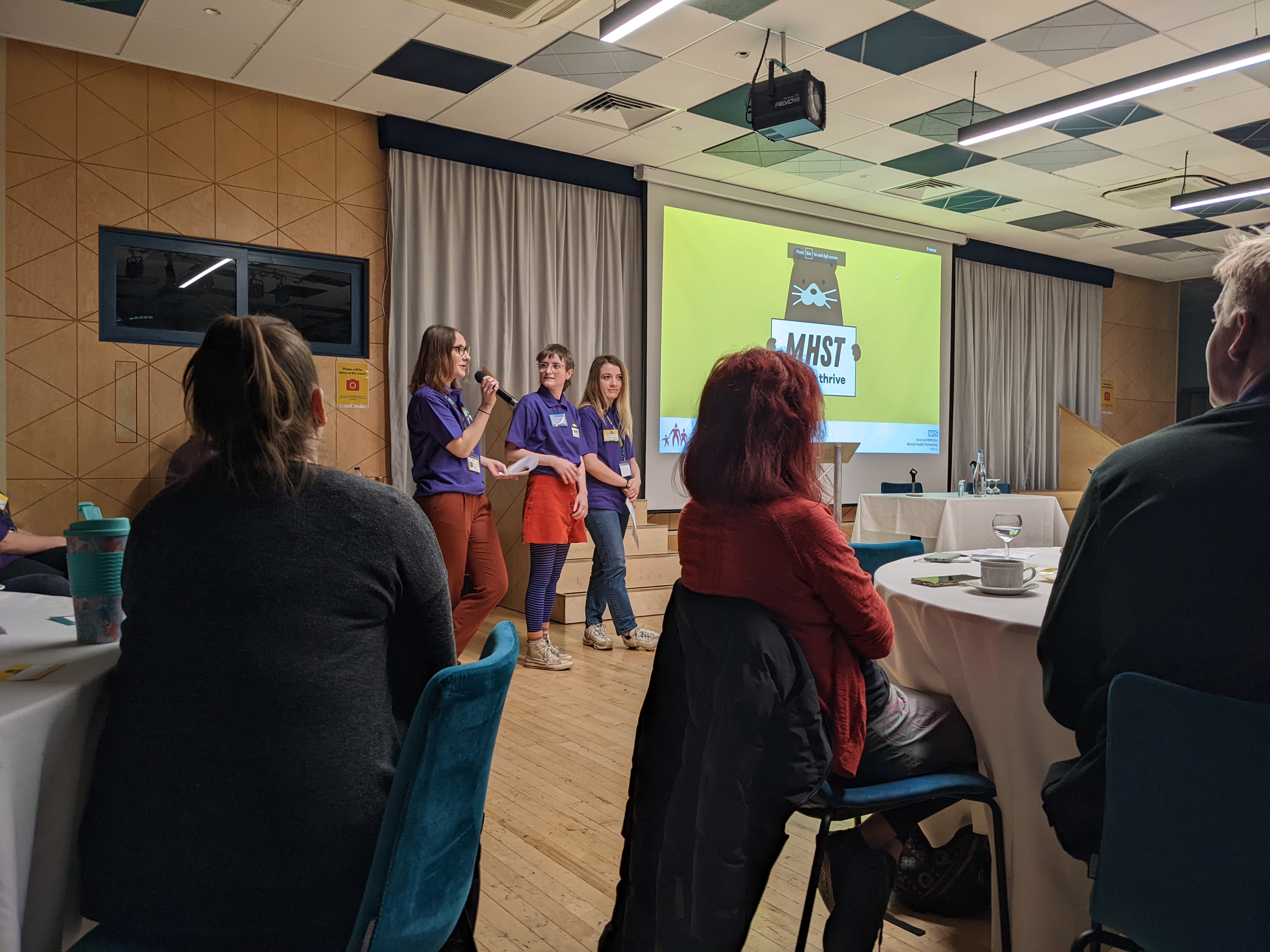 We put on this conference to celebrate the progress of the MHST in schools over the last year. We hoped that the day would give people a chance to connect with others in their field, and develop skills for supporting young people's mental health. In one study, 1 in 4 young people said that when they received help it was the wrong help, and to help tackle this we filled the day with talks and workshops that would help professionals understand young people's needs and how to get them the right help at the right time.
Read the press release about the iThrive event here
We had talks on the iThrive model, the importance of organisational partnerships, and an MHST 'news hour' on how the teams work, with a video of feedback from schools.
Pooky Knightsmith delivered an engaging presentation on techniques for listening to young people and supporting them through difficult emotions. We saw the launch of the redesigned CAMHS website and heard from a young person how the changes made the website more accessible and helpful for young people.
We also had many interactive workshops from professionals about various topics, including using creativity in mental health practice, barriers that black young people and young people of colour face in mental health settings, and supporting parents' mental health.
Here are some words from OTR's Peer Reps:
Emily:
"I loved to see that throughout the day, the people attending were so engaged in discussions and so receptive to new ideas. Everyone showed how invested they were in helping young people, and the discussion prompts given by speakers and in workshops gave people the perfect opportunity to get advice and perspectives from other professionals".
Frankie:
"When we came to the Q&A before the workshops, questions were sometimes answered by the audience (e.g. when asking about services for primary ages). I felt this showed that one of the events aims – to network with other organisations – was already being achieved".
Meg:
"Hearing the discussions during Pooky's talk and different methods used around listening and how to support young people in different settings showed how passionate everyone was and how everyone was striving towards the same goal – providing more mental health support and access to young people".
Feedback from attendees:
"The guest speaker made me think about ways I can change the environment I work in to help people feel safer to talk"
"It was really good to be able to network with others and identify different roles, this will help collaborative partnership working but also identify the right service for children and young people"
"I really enjoyed the positive energy from everyone on my table and everyone who spoke. The MHST practitioner at my table was fantastic – easy to talk to, fielded all sorts of questions and came across as a really skilled individual. Great to know that you are all out there doing your thing – thanks for a great day!"