Hello again fellow readers and welcome to the OTR Book Club blog!
The OTR Book Club is for anyone aged 16-25. It is a relaxed, safe space that operates using OTR's core approach. The OTR Book Club is an opportunity for people to get together once a month to connect with each other and discuss books, as well as many other topics, in a safe and inclusive environment. Members put forward book suggestions and then vote on their favourite option. The winning book is then generously provided by Give a Book charity, meaning all members get a free copy!
I'm Bryony and I'll be taking you on a monthly journey through our choice of novel and what we all thought of it.
We're back again with another month of OTR's Book Club – and this time it's virtual! We observed the latest government advice regarding the Coronavirus, and we all attended the club from the comfort of our own homes via Google Hangout and it worked great!
[If you would like to join OTR's online Book Club – you can sign up here]
This month's book was The Drowning of Arthur Braxton by Caroline Smailes. Arthur Braxton has had enough. His mum has left, his dad is broken and he's the laughingstock of his high school. But things are about to change. When Arthur runs away and shelters in an old abandoned bathhouse, he sees a naked woman swimming in the pool. From this point on, his sad little life will never be the same.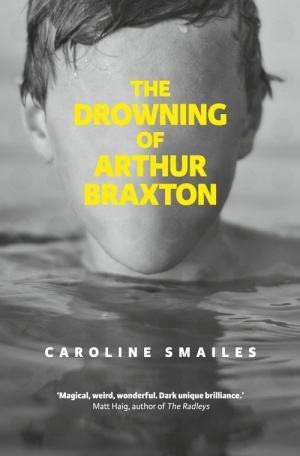 SPOILERS!
This month's session was attended by myself, Nat, Cara, Enya, Char and Rose.
The first thing we all said was that we found the book extremely gripping and kept wanting to go back for more! The story really kept us hanging on as we tried to figure out the mystery of the Oracle.
We discussed how The Oracle itself is essentially another character and is the pinnacle of the novel and that the whole story revolves around the building. This is quite unusual for a book as usually the main story revolves around the characters, but in this case, the key moments that shape the characters lives, all happen because of the Oracle.
Following on from this, we discussed the character of Delphina and how, secondary to the Oracle, she is the character that's at the centre of the story, as Cara observed. It seems that everything that happens after the Oracle saves her, happens because of her; Maddie has said that she is told to make the sacrifices by the water goddesses because of her, Arthur is saved from Maddie because of her, Silver has stayed in the Oracle all these years because of her… Enya added that Delphina's story is especially interesting because all the characters stories feed into hers in order to preserve her wellbeing and her life.
We then moved on to discuss Arthur's character. Rose said she thought that he was a basic teenage boy, although the author had stretched him into an extreme version of a teenage archetype. Enya agreed saying that he was more of an archetype of a character rather than a human being and she feels like the author wanted him to act more as an outline of an archetype, in order for readers to relate themselves through him. Initially, to many, it might come across as a book with lots of crude language and teenage insolence in but underneath its layers it's a really clever and powerful read.
Nat added to this saying that Arthur's narrative was essentially a caricature of a teenage boy and that enjoyed reading him as such, which most of us agreed with. Although Cara says she wasn't sure what she thought of Arthur! And it was a bit strange how even though the book is called the 'drowning' of Arthur Braxton, you're never really thinking that he is actually going to drown… you kind of forget about his inevitable fate.
We then moved on to discuss Silver as a character. We were a bit confused as to what this guy was doing! He can see what will happen in people's futures and can see if someone is going to die.
However, he doesn't tell the characters about their fate, he just tells them 'Run for your life'… when it's already too late and they have nowhere else to go. This sparked a debate on if he actually wanted to help?
Enya says that, through Silver, the novel works in almost a circular structure where Silver says 'run for your life' to Laurel at the beginning and then to Tommy at the end, who both die soon after. We discussed how maybe he works as a messenger for the water gods; through him their work is done, and he can't change what's written in stone. I thought that maybe he had a bit of a God complex; he can see exactly what's going to happen and he will manipulate those around him into doing exactly what they need to, to fulfil their fate. We did conclude that even if Silver had tried to stop what was already set in stone, it would have just happened in a different way.
A theme running throughout the book that we all picked up on was the magical realism, following on from the magical realism that we saw in our previous month's novel, The Strange and Beautiful Sorrows of Ava Lavender. Rose says that with magical realism in this novel we got a clear picture of what was going on. Nat says she thinks that it worked really well. The world was very normal and the magic was neatly contained in the Oracle which made it very plausible. But then later the magic started to leak out into the world with the rain sent by the water goddesses to slow the knocking down of the Oracle.
Enya says, the magical realism began as quite mysterious and illusive but by the end the magic had consumed Arthur's entire life…literally!!
I made the point that I thought that compared to the novel last month, this book the magical realism felt quite clunky and wasn't woven as seamlessly into the story. For example, personally, I didn't really get what role the twins were supposed to play in the novel and they didn't really add anything. We did get an explanation of their back story but it just didn't sit very well with me. But then Cara made the point that maybe these parts of clunky magical realism were supposed to be disorientating. After some thought, maybe this disorientation throughout the novel is supposed to make the reader feel like they too, are drowning…
In the end, we agreed that this was a book that would stay with us for a while and would definitely be one for reading again in the future.