Today was a great day! Got up early and was ready at Temple Meads at 9.40am. The meeting time wasn't until 10am, so I spent a few minutes standing awkwardly in the entrance, until I spotted Florian in WHSmiths.  I joined them in the shop and after a few minutes we were joined by Shane and Leo. After a discussion on the ridiculous price of sweets in said shop (£2.99!) and the upcoming day, we spotted Hannah outside and joined her, therefore completing the group for this journey!
We were quickly briefed on the journey and given an outline of the days schedule; we then boarded a train to London Paddington. On said train we read the material provided on the METRO and Youth Chances research project, some of the information this seminar would focus on and other important information (the seminar we went to was on Mental Health). We also worked out the tube route we would take from Paddington to Camden town, it was pointed out that the route we had chosen would take us passed Kings Cross station and it was decided that a quick detour was needed to see the famous Platform 9 ¾.
When we reached London we quickly got our tube tickets and made our way to the famous station, when we got there (and finally found the Platform 9 ¾ sign), we discovered it wasn't just a mere sign as we had originally thought! It was a sign with a trolley partially in the wall and a queue to get your photo taken with it while wearing a house scar.  After a quick time calculation and check it was decided that we had enough to queue for photos! Many things were leant in the queue, for example, it isn't always a good idea to try Bettie Botts every flavoured beans when you are offered then and that us Youths in the group were made up of 2 Slytherins, a Ravenclaw and a Hufflepuff. When we finally got to the front of the queue, Hannah kindly took photos of us in front of the trolley alone in house scarfs (although the Slytherins had to share, not that they minded!) and then a strange group photo.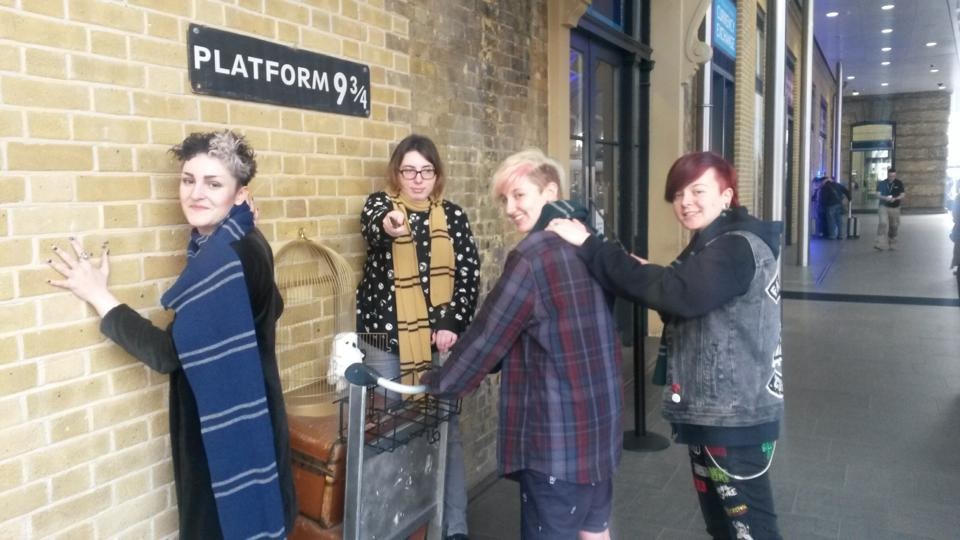 We then had to rush off and very quickly get to the seminar as we were going to be late! Luckily we got there with minutes to spare, although we did accidently wonder into an area of Camden were something was been filmed and were thoroughly confused about what was going on. We missed our lunch hour because of our Harry Potter stop, so we had to eat our lunch during the introduction of the seminar. We did get name tags though which I was quietly excited about….. The seminar was about a five-year research project done by METRO Youth Chances aiming to identify the needs of 16-25 year old lesbian, gay, bisexual, transgender or questioning (LGBTQ) people across England and improve the commissioning and provision of services to meet their needs. We examined and discussed their findings in relationship to mental health, then had a short break.
In this break several mini adventures were had, Shane and Leo bumped into the band The Midnight Beast and were lucky enough to get them to sign something for them. Shane Leo, Florian and I then went on a mini quest to find caffeine, found said caffeine but got back to the seminar a bit late…. opps! We then finished the session by discussing and giving our input on how services could be improved.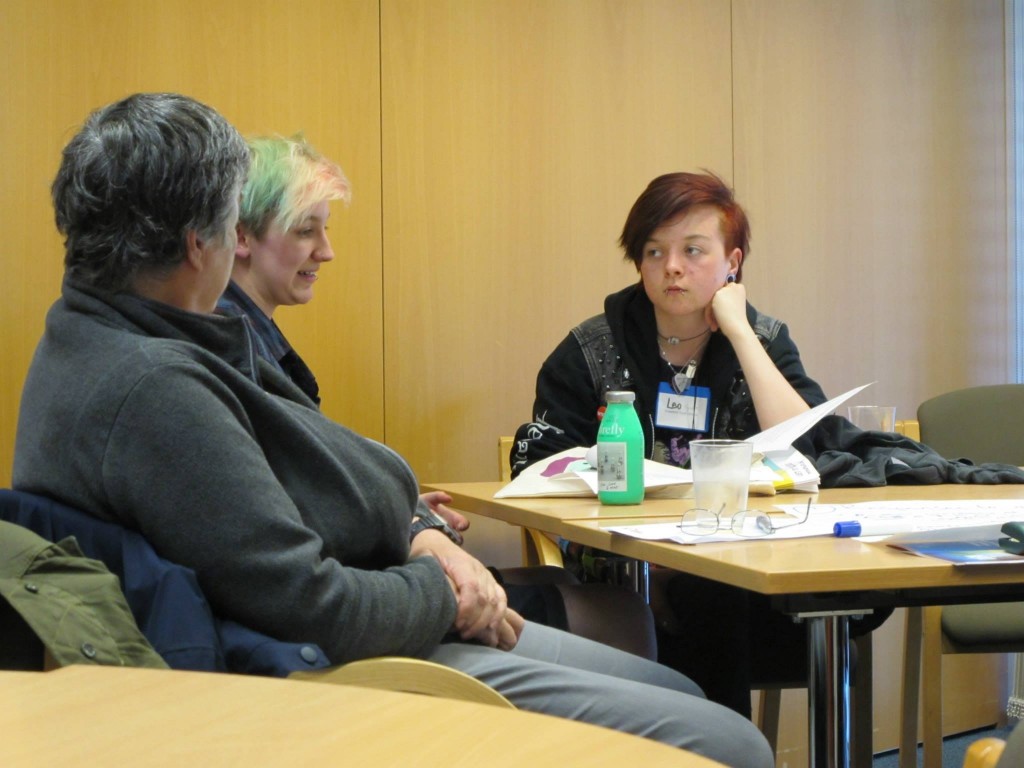 When the seminar finished we packed up went into the streets of Camden Town to quickly look at some awesome clothing, and cry over the prices and leg length of said clothing…. We then made our way to the Japanese restaurant to eat dinner. Said Japanese food was delicious and greatly enjoyed!
We then took the tube back to Kings Cross station and to the Harry Potter shop next to platform 9 ¾ and brought badges and Hogwarts express tickets. We then rushed off to Paddington station as we thought we were going to be really late, turned out we had time to spare. So we brought drinks and found the Paddington bear statue and took a photo with him.
We then waved goodbye to London and boarded our train back home. It had been a long day and many of us slept on our journey home while others completed crosswords.  We finally reached Bristol Temple Meads at 9.45pm, tired but happy from our enjoyable day.
As I have said already it was a fun, interesting and over all great day. I look forward to other days like this one, hopefully many in the future of Freedom Youth.
By Rosa