Hello everyone and welcome back to another OTR's book club blog!
SPOILER ALERT! Our review contains details about the storyline.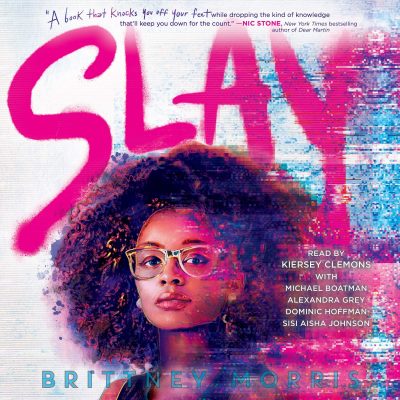 This month we discussed Brittney Morris' SLAY. Kiera Johnson is one of the only Black kids at Jefferson Academy and at home she joins hundreds of thousands of Black gamers who duel worldwide in the secret multiplayer online role-playing card game, SLAY. No one knows Kiera is the game developer. But when a teen in Kansas City is murdered over a dispute in the SLAY world, SLAY is labelled a racist, exclusionist, violent hub for thugs and criminals.
First we started talking about what we thought of the book as a whole. Nat said she enjoyed it so much more than she thought she would, reading something she doesn't know anything about. Catherine said she doesn't really game but you didn't need to game to get the book, even though it was a big part of the story! Ryan says he finished the book in like two days and couldn't put it down! He really liked how there were so many comments on black culture and the novel was embracing it. Maddie says that she does have a Switch that she plays but this was her first game-based book and she really loved it. Annabelle says she had actually looked at reading it before but decided it wasn't for her as she's not a 'gamer', but enjoyed it so much more than she thought she would. Joe said the thought the game in the book was such an amazing sounding game and the imagination of all the artwork was great. Joe said he thought it was written really well so that he could understand it and connect on a more emotional level.
We then spoke a little bit more about the game itself. Nat thinks the cards were really cool that you used in battle in the game. They were celebrating black culture and fun. Ryan really liked the thought behind all the different cards. Ryan liked how we got different perspectives from different parts of the world, like Spade and Q. Diamond although he wishes we got to learn more about them. Maddie really liked that there was a lot of heart and soul put into the gaming cards.
We then moved on to discuss a bit about the characters and their relationships. Nat says she thought Malcolm (Kiera's boyfriend) was very anti-feminist. Nat thinks the book has a satisfying ending with Malcolm, acknowledging he's anti-feminist and up on his high horse. Ryan says Kiera annoyed him at times but he thinks that's just because she was young. Ryan says it annoyed him how Kiera's and Malcolm's relationship worked; she saying how much she loved him but he didn't see it. Ryan says he likes how Malcolm's character was explained at end of the book. He was flawed, wants to go to black school and thinks video games are made by the white man to destroy black lives.
We also spoke about the gaming community as a whole and the benefits of having such a community. Nat says that video games are a huge part of peoples' lives and can be really helpful. Ryan thinks it's not just showing how video games can be helpful but also online friendships as there used to be a lot of stigma around online friendships/relationships before COVID. Maddie really liked how it highlighted the community within gaming and said it was a really good way to show how her game has impacted the gamers. Maddie said it definitely gave her a sense of community and Annabelle also thought that community within gaming is so important particularly during COVID-19.
To close the discussion we talked about how we thought it would be really cool to have a sequel to the book and see what the game had done in the future. I think we all really enjoyed the book and are all looking forward to next month when we will be reading Hood Feminism by Mikki Kendall.
---
This blog piece was written by Bryony.