Hello and welcome back to another one of Off The Records book club blogs!
SPOILER ALERT! Our review contains details about the storyline.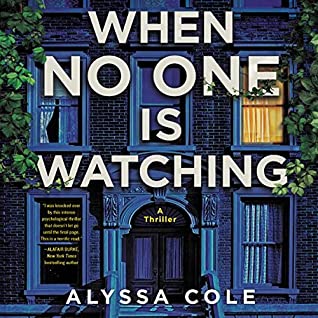 This month we have been reading Alyssa Cole's novel When No One is Watching: A Thriller. Sydney Green's neighbourhood is changing and her much loved neighbours are disappearing! As Goodreads puts it, Sydney decides to investigate and finds an unlikely and unwanted assistant in one of the new arrivals to the block—her neighbour Theo. Sydney and Theo's deep dive into history quickly becomes a dizzying descent into paranoia and fear. Their neighbours may not have moved to the suburbs after all, and the push to revitalise the community may be more deadly than advertised…
We started off by talking about the flow of the book. Nat said that she found it hard to get into but then couldn't put it down! She said she didn't think she'd ever read a psychological thriller that really got under her skin. Lili agreed and said that she loved it! I really liked the slow burn at first and then the intense bits at the end. The pacing was really interesting. She thought at first, that she might not love the book, as it didn't appear to have a lot in it but then when you get to last 100-150 pages you see it's been a whole set up!
We moved on slightly to talk about the different character narratives. The book is told from two different perspectives of the main characters, Sydney and Theo. Nat said she found it confusing when jumping from one character to another. Joe said he was really confused right at beginning and didn't clock that it was two different characters talking about two different stories! He thought the c chapters were the perfect length. Annie said it reminded her of Malorie Blackman's Noughts and Crosses, the way there are two key characters and splits time between them. Nat really like perspective of Sydney and Theo. It would have been really easy to just have Sydney but is was really good to have Theo's perspective as a white person.
Lili said she thought that the characters of Jen and Jen were not a major part of the plot but showed different levels of racism well; overt racism and then smaller racism. Jen and Jen were an interesting way to show how its typical of an older generation of people being outwardly racist. She thought it was interesting how uncomfortable she felt through some of it and had to almost force myself to read bits. It really shows how white people can just ignore racism because it's uncomfortable.
We moved on to discuss the gentrification in the novel and how some characters viewed it as a good thing. Nat and Annie discussed how viewing it as a good thing is definitely a privileged point of view. Lili said that some people think it's a good thing as it makes the place 'safer'… but, safer for who?!
We then talked about the portrayal of the police in the novel. Nat said it showed how the police really can't be trusted. Maddie said there was a part which highlighted how white people trust whatever the police say and how it was a really good point to bring into the book because there is authority issues within the police. Lucy says it kinda shows that all the white people in the book were 'frightened' of those that were black and not harmful, but the black people were frightened of the police who should be protecting everyone.
Then we spoke more in depth about the character of Kim. Safe to say she was not popular! Lili, Annie and Maddie all hated her mostly because there are so many people like her out there. We just don't understand how someone could think like that, even though we know many do.
Then we spoke a bit more about Theo and how when he wears a BLM shirt, it was more of a performative thing as opposed to actually supporting the cause. We spoke about how the writing of a white character's perspective means that white people might take it on board more, which is really sad. Joe thinks that as Theo and Kim are friends, he can tolerate her more as he's white and makes justifications for her, like 'she's just having a bad day'. If the novel was told from just Sydney's point of view, white people wouldn't necessarily see their own part in it. Maddie feels like there was a good amount of character development for Theo which was really nice to see, he may have been uneducated about racial issues, but I really feel like he was trying to make a difference. Bethan liked how they showed the institutional racism with Theo as he didn't think he was racist and again, readers might be able to notice it in their own lives. It showed how to actually be a good ally rather than just posting on social media and how racism is white people's problem and black people shouldn't have to have to deal with educating them.
Joe said Sydney's character was one of his favourite parts of the book. She was so stressed and having such a tough time but still managed to carry on doing this research. All the messages she's receiving that are causing her poor mental health are things that are positive changes for the community. Maddie felt sorry for her because she was trying to keep everything together, but her physical symptoms of stress were getting the best of her. She felt like the whole community was relying on just her. She really didn't think she was capable but there was so much evidence which showed she was.
We closed the discussion by agreeing that we thought it was a really important book for us to read with a lot of vital themes. We discussed considerably more about this novel in the session, but there was far too much to put in a singular blog post!! If you enjoyed reading this, join us for our next session where we will be discussing Hood Feminism: Notes from the Women That a Movement Forgot by Mikki Kendall.
---
This blog piece was written by Bryony.